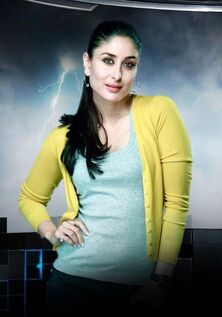 Sonia Subramanium is the stylish wife of Shekhar Subramanium and the mother of Prateek Subramanium. She is played by Indian bollywood actress Kareena Kapoor .
Sonia is a beautiful punjabi woman, full of life and zest. She is ready to face any obstacles that come her way, except modern technology. Sonia is technologically challenged and she literally runs away from technology. A feminist by nature, Sonia aims to pen down a book on male centric abuses. Amongst the family of three – Sonia often finds herself acting as an adhesive between her geeky husband Shekhar and her cool son Prateek, who are constantly fighting. Sonia is hopeful that one day this father- son duo will finally bond.
In one part, when Shekar was alive, she was working on her book, typing on a typewriter and Shekhar was working on the video game and he came and typed 'Let's make a baby' (which means sex). Clearly Sonia loves Shekhar more than Prateek. Though Shekhar is so mad, she refers to him as 'hot'. THis is true love
Ad blocker interference detected!
Wikia is a free-to-use site that makes money from advertising. We have a modified experience for viewers using ad blockers

Wikia is not accessible if you've made further modifications. Remove the custom ad blocker rule(s) and the page will load as expected.