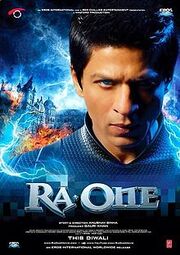 Welcome to the Ra.One Wiki
Edit
Ra.One is about a father- Shekhar Subramanium (SRK) who tries hard to 'fit-in' in his son's (Armaan Verma) badass world and the son … trying hard to 'dude-up' his dad from 'aiiiyyyo' to 'YO!' And a mother lost in translation between her husband's 'ingeva' and her son's 'Inn'it!'
While Shekhar was trying every trick in the book to woo his son, get 'dude-ified' and 'up his coolness quotient' his son had given up on him..Just when the father-son duo hit a deadlock- Shekhar strikes gold when he designs one hell of a game..
Finally it all starts falling in place...
...as the family comes together...
..only to find themselves in the middle of a crash...
...not just a hard drive crash but a crash that would drive them to a disaster and make their lives go – KABOOM!!!… all hell breaks loose when - the game that was meant to be played with… starts playing them… Ra.One- The next level.
(FOR MORE INFO., GO TO Ra.One.)
Feautured Character
Edit
Ra.One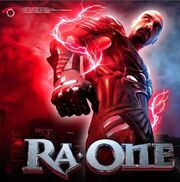 Ra.One is the main antagonist in the movie (also named after him) Ra.One. He's very powerful and evil. He is played by Arjun Rampal.... (For more info. go to the main Ra.One .)
vote for your chearecter
Edit
Ad blocker interference detected!
Wikia is a free-to-use site that makes money from advertising. We have a modified experience for viewers using ad blockers

Wikia is not accessible if you've made further modifications. Remove the custom ad blocker rule(s) and the page will load as expected.