Kareena Kapoor is a contemporary Indian Bollywood actress, who plays the role of Sonia Subramanium in the film Ra.One . She plays the wife of Shekhar Subramanium (SRK), and in the film is technology illiterate and has problems handling them. She plays the mother of awesome game player Prateek (Armaan) and the wife of geeky game designer Shekhar (SRK ).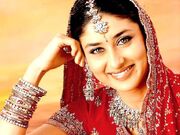 Ad blocker interference detected!
Wikia is a free-to-use site that makes money from advertising. We have a modified experience for viewers using ad blockers

Wikia is not accessible if you've made further modifications. Remove the custom ad blocker rule(s) and the page will load as expected.